Fry Family photos:
John & Catherine Eberhardt Fry
Other family photos:
Czernek family
Haun family
Markel family
Pence family
Sisson family
Other cousins
Unidentified photos

Fry Family obituaries:
Satellite photos & maps:
John and Catherine Eberhardt Fry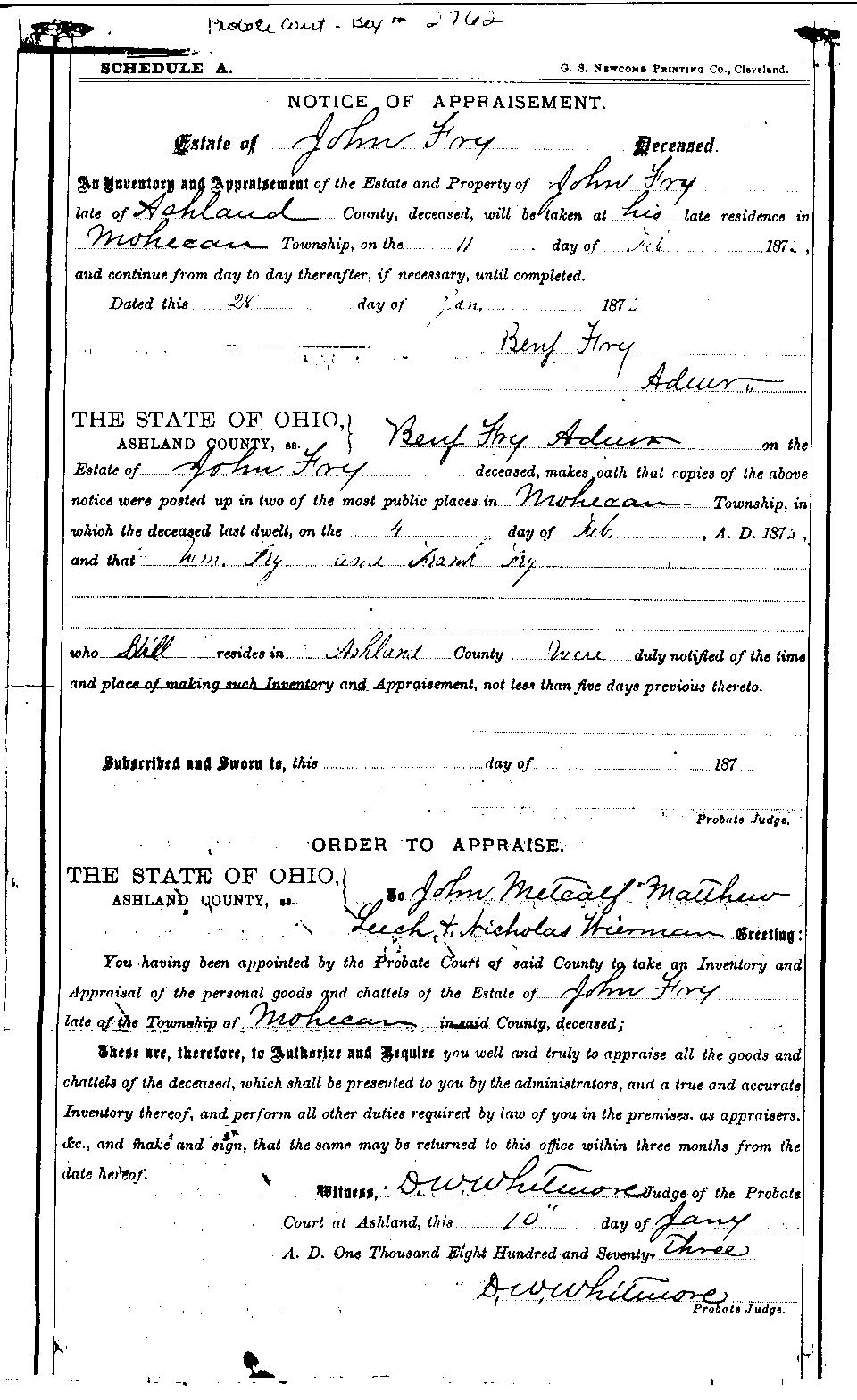 The Probate Court's notice of property appraisal following the death of John Fry at the end of 1872. Dated Feb. 11, 1873, it notifies William and Franklin Fry that John Metcalf, Matthew Leech and Nicholas Wierman will conduct the appraisal.
Both Leach and Metcalf are neighbors in the Caldwell's 1874 Atlas. Benjamin and William Fry end up owning John and Catherine's farm, with Franklin owning a 30-acre piece of land just to the north. Catherine will live on the farm with the sons until her death.
It is also interesting to note that in the 1870 Census, John and Catherine had young people living with them who were not their children -- William Metcalf, age 4, and Sarah Shroyer, 12, who is listed as a "domestic servant". Ten years later "Sadie Shawyer" would be listed in the 1880 Census as a ward to Benjamin Fry's family. In 1880, neice Della Z. Fry would also be living with them and going to school.
Census records from 1850 to 1870 show John Fry being born in Pennsylvania. His death certificate shows New York as the state of birth.
The 1870 Census lists William Fry as a carpenter and the William Spileter family is living in the same household. William Spileter, 60, is a cabinet maker.
Revision: 11/17/2011